Nant Y Pandy / The Dingle Local Nature Reserve
Citation
Nant y Pandy / Dingle Local Nature Reserve was awarded the UK MAB Urban Wildlife Award For Excellence in 2004 for: the work done by the Llangefni Dingle / Nant y Pandy Enhancement Project to involve young people, combat social disadvantage and enhance the environment through the management of the Local Nature Reserve and creation of environmental art works in 2003.
Description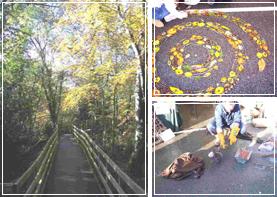 This joint project improved an 8 hectare site of degraded ancient woodland (known locally as the Dingle), within the town of Llangefni which was designated a Local Nature Reserve, in 1995. The area is owned by Ynys Môn/Isle of Anglesey County Council and is managed by it's Countryside Service.
The Dingle/Nant-y-Pandy Enhancement Project was awarded approximately £180,000 in total to transform the area into an attraction which will symbolise local regeneration. Improvements to access were made, including 2 wooden boardwalks, constructed by the New Deal Environment Task Force, a disabled access ramp to the site and 4 wooden footbridges.
Sculptures have been a major facet of this project with 3 sculptors having produced 3 gateway sculptures, smaller sculptures, sculpted benches and tables. There are also information panels interpreting the site's historical and ecological significance.
Award presentation
On 30th October 2004 a presentation of Welsh and English plaques and certificate was made to Nant Y Pandy / the Dingle LNR by the Urban Forum's Ian Douglas, Emeritus Professor of Geography at the University of Manchester.
News
Contact
Countryside Warden,
Cyngor Sir Ynys Môn County Council,
Planning and Environmental Services Department,
Swyddfa'r Sir,
Llangefni Ynys,
Môn,
LL77 7TW.
Tel: 01248 752400/429