Shibdon Pond Local Nature Reserve
Citation
Shibdon Pond LNR was given the UK-MAB Urban Wildlife Award for Excellence in 1999.
Description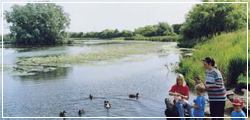 Shibdon Pond is one of the few large open water sites between the Tyne and the Tees, and is an important wetland habitat in the area of approximately 20 hectares. It is thought that mining subsidence led to the formation of the pond which is fed by a spring from old mine workings.
The site, designated as both a Site of Specific Scientific Interest (SSSI) and Local Nature Reserve (1990), is fringed by extensive reed swamp and supports a large number of wintering wildfowl such as Tufted Duck and Teal.
Contact
Shibdon Pond Local Nature Reserve,
Off Shibdon Road,
Blaydon,
Gateshead,
Tyne & Wear,
NE21 5AF.