Sydenham Hill Wood
Citation
Sydenham Hill Wood was given the UK-MAB Urban Wildlife Award for Excellence in 1997.
Description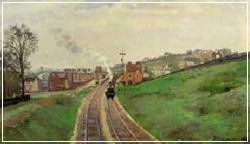 Managed by the London Wildlife Trust it is the largest fragment of the Great North Wood which once stretched from Deptford to Selhurst. The site also includes Victorian garden from villas built in the 1870s. The site was saved from partial development after a local campaign and is very popular with local people.
A footpath winds through the wood following the track of the old railway line and a footbridge passes over the remains of the track. From this bridge the impressionist painter Camille Pissaro painted a view of Lordship Lane Station (below). There are many other attractions within the wood, such as a ruined monastery, ponds and wooden sculptures by local artists.
Activities at the site are a Park Watch scheme with junior section, school projects, creepy crawly club, health walk and green gyms, local community events, after-school clubs and a cafe.
Contact
c/o Horniman Museum,
London Rd,
London.
SE23 3PQ.