The Topsoil Stripping Wildflower Meadow project
Citation
The Topsoil Stripping Wildflower Meadow project at Huyton was given the UK-MAB Urban Wildlife Award for Excellence for creating a sustainable biodiverse wildflower landscape that is enjoyed by local people, helps to preserve significant species and acts as a national model of good practice in urban creative conservation in 2004.
Description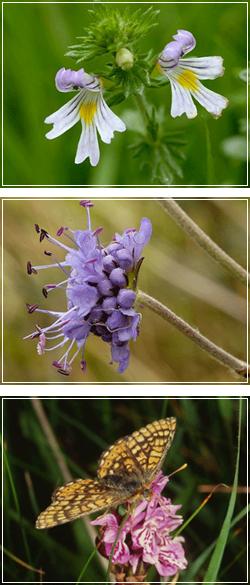 The project was undertaken in in 1994 as part of the charity Landlife's developing Community Wildlife Project. From simple sowings the project has developed into spectacular displays of wildflowers from April to August. It is a source of inspiration for other groups and individuals around the UK. It demonstrates how biodiversity can build rapidly from a simple sowing of selected species if the starting point is given careful consideration.
The project had no cost to the public or private purse. It was entirely paid for by the sale of the topsoil stripped from the 1.7 ha site in the middle of a 1950's council housing estate, as part of a community landscape strategy that replaced a species poor, neglected greenspace with an inspirational wildflower landscape. Simple combination sowings were made on prepared low fertility subsoil. These have now produced a complex, varied grassland with around 70 different species 10 years after sowing. Among the diverse plants is the biodiversity action plan species eyebright Euphrasia officinalis. Populations tens of thousands of plants of devil's bit scabious Succisa pratensis have developed from a simple sowing of only 10g of seed. This plant has been recognised by the Butterfly Conservation Society as a means of increasing marsh fritillary numbers at sensitive sites in Cumbria. The project is sustained be a very low level of management due to the lowered productivity of the vegetation on the site.
The site is used by Landlife for creative conservation days, and has been visited by hundreds of landscape professionals, ecologists and community workers. Presentations on the project have been given at Ecological Restoration Conferences in Texas, Hungary and Canada. In 2000 participants in the Society for Ecological restoration Conference at Liverpool visited the site. It has also featured in articles in journals such as Horticulture Week, Landscape Design, and Landschaft. Plantlife has used the site as an example of a UK response to the Global Plant Strategy, and an Indian journal has cited it as a cost-effective solution for achieving biodiversity benefits. In 2000 the BBC Natural History Unit filmed it for their Millennium Britain series. The technique is cited in the UK Lowland Grassland Handbook and is considered both good practice and the largest UK example of topsoil stripping for species rich grassland creation by the UK Lowland Grassland Group and other specialists.
The project is an example of Best Practice in Creative Conservation techniques. It is Landlife's best demonstration site in Knowsley, which was christened The Wildflower Borough by an early day motion in the House of Commons in 1992.