Waldridge Fell Country Park & Cong Burn Wood
Citation
Waldridge Fell Country Park & Cong Burn Wood was given the UK-MAB Urban Wildlife Award for Excellence in 1998.
Description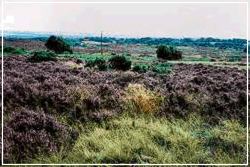 Waldridge Fell is of importance as the only major area of lowland heath in County Durham. It includes range of heathland, grassland, wetland and woodland habitats, several of which are rare or absent in the rest of the County. Waldridge Fell is close to the town of Chester-le-Street, about 5 miles from Durham City Centre.
This habitat is now rare throughout Britain and Waldridge Fell is one of the few remaining examples of its type in the Northeast. It is home to a number of plants and insects that are scarce in the county.
Contact
Durham County Council,
Environment,
County Hall,
Durham,
DH1 5UQ.